IX. INFRASTRUCTURE
A. Transportation
A.1 Roads and Bridges
The Maharlika Highway links Samar to Luzon and Mindanao. The total road network in the province is 1,217.20119 kilometers long. Bridges connecting the national roads have a total length of 2,399.64 linear meters, while those connecting the provincial roads are stretched over 309.90 linear meters.
Passenger and cargo vehicles from Samar are transported by ferryboats from Allen, Northern, Samar to Luzon across the San Bernardino Strait through Bicol road network. Southbound transport to Mindanao is possible. Ferryboats sail for Surigao from Liloan, Southern, Leyte. Ferryboats also service the Leyte-Cebu waterway from Pingon, Isabel, Leyte.
Road classification is broken into the following: National roads, 326.18019 kilometers (26.80 percent); provincial roads, 290.439 kilometers (23.86 percent); municipal roads, 69.515 kilometers (5.71 percent); barangay roads, 520.832 kilometers (42.79 percent) and city roads, 10.235 kilometers (0.84 percent). Only 35.90 percent of the roads in the province are paved while 64.10 percent are unpaved roads.
A.2 Vehicles Registered
Record with the Land Transportation Office showed a total of 3,355 registered motor vehicles in the year 2000 (new and renewal). In comparison with the previous year's (1999) registration, there was a slight increase of 2.26 percent. Moreover, private motor vehicles constitute 67.87 percent of the total registration.
A total of 3,473 drivers' license and permits were issued during the year (2000), an increase of 5.79 percent from the 1999 issuances. Professional drivers' license issued was 1,616; non-professional, 623; students' permits, 1, 201; and 33 were issued conductor's license.
A.3 Ports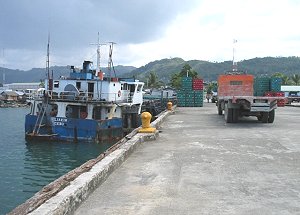 The Catbalogan Port is presently serving commercial cargo vessels only.
Almost all coastal municipalities (15) are equipped with seaports and some with shelters for small fishing boats. The ports of Catbalogan (2) Calbayog City (1) are classified as national ports. Inter-island vessels dock regularly at these ports to load/unload people and cargoes to and from Manila and Cebu. Two shipping lines for Manila and two also for Cebu are serving Catbalogan; while Calbayog City has one shipping line for Cebu and one for Manila. Motorized bancas or motorboats are available in going to and from the nearby municipalities and barangays.
Table 10. National and Municipal Ports
| | | |
| --- | --- | --- |
| Name | Classification | Status |
| 1. Catbalogan Pier I and II | National | Functional |
| 2. Calbayog Port | National | Functional |
| 3. Almagro Port | Municipal | Functional |
| 4. Basey Port | Municipal | Functional |
| 5. Daram Port | Municipal | Functional |
| 6. Calbiga Port | Municipal | Functional |
| 7. Gandara Port | Municipal | Functional |
| 8. Marabut | Municipal | Functional |
| 9. Pinbacdao Port | Municipal | Functional |
| 10. Sto. Niño Port | Municipal | Functional |
| 11. Tagapul-an Port | Municipal | Functional |
| 12. Tarangnan Port | Municipal | Functional |
| 13. Villareal Port | Municipal | Functional |
| 14. Zumarraga Port | Municipal | Functional |
A.4 Airports
The province has two airports with one being operational – the Calbayog Airport that can accommodate light planes (Fokker 50). It has five (5) flight schedules for Manila per week.
B. Water Resources and Sanitation
B.1 Water Supply and Sanitation Facilities
Sources of water supply in the province are deep wells, shallow wheels, surface water and protected spring and rivers. Based on the Final Report on the Assessment of the Domestic Water Supply Sector of Eastern Visayas dated April 1998, the province has a total of 59,015 households requiring adequate water service or 51.10 percent. The number of households un-served was 10,214 or 8.84 percent out of the total number of 115,493 household of the province. The total number of household served per survey was 80,445 households.
There was a total of 2,742 level I water supply facilities with 1,417 operational (51.68 percent) and 1,325 non-operational (48.32 percent). For level II facilities the total was 1,227 faucets and the level III facilities totaled to 4,764 individual connections. These three levels of water systems can serve adequately 33,021 households or 28.75 percent of the total number of households in the province based on the standard set under NEDA Board Resolution No. 12 (s. 1995) for public water facilities.
For the sanitary toilet facilities, out of the 115,493 households in the province only 30,203 households or 26.15 percent per survey were using sanitary toilets and 48,755 households per survey or 42.21 percent were not using sanitary toilets.
The most feasible water source for domestic water supply of most communities in the province is from groundwater. In areas were Level II and III projects are identified for development, additional hydro geological investigation should be conducted. A number of untapped springs and surface water could harnessed for Level II or III service to serve the inadequately served or unserved residents.
B.2 Irrigation Facilities
Out of the 15,782 hectares of potentially irrigable land, only 18.63 percent or 2,940.92 hectares are covered by the different irrigation system facilities in the province. Of the 2,940.92 hectares covered, only 35.33 percent or 1,039 hectares are actually irrigated by these facilities. The rest are for rehabilitation/repair and/or totally damaged.
C. Communication
C.1 Telephone System
There are two local telephone systems operate in Catbalogan (BAYANTEL and TELOF) and one in Calbayog City (Calbayog Telephone System in cooperation with PLDT). These systems provide domestic as well as international direct dialing. Public Calling Offices are also available to accommodate clienteles aside from the local subscribers. Other PCOs are provided by PLDT and EVTELCO in Catbalogan. The Telecommunication Office (TELOF) of the Department of Transportation and Communications has provided telephone lines to the municipalities within the province specifically the poblacion. The use of cellular phones make communication accessible even to remote areas thru text messaging.
C.2 Telegraph Stations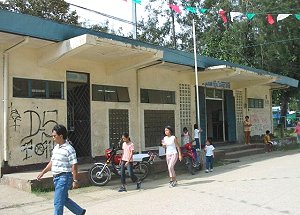 Post Office in Catbalogan
Government telegraph exchanges facilities are available in every municipality of the province, aside from a private telegraph company based in Catbalogan and Calbayog City.
C.3 Postal Services
The Philippine Postal Corporation provides the postal services in almost all the municipalities of the province except Matuginao and San Jose de Buan. The corporation takes charge of these services that include receipts of mails, issuance of money order, dispatch and delivery of mails. In terms of delivery, it has its express mail service that is the fastest service. Private forwarders (JRS, LBC, etc.) are also available in Catbalogan and Calbayog City.
C.4 Newspapers
National newspapers are also available in the province, which is transported by air through Tacloban City. Available also are three local periodicals.
C.5 Radio Stations
There are four local radio stations serving the province. These are DYRV – an affiliate of the ABS-CBN and DYMS located in Catbalogan and the other two stations, DYOG-Radyo ng Bayan and DYCC located in Calbayog City.
C. 6 Television Stations
There is one affiliate TV station and one government-owned TV relay station in the province, all located in Calbayog City. However, there are eleven Cable Television provider in the province, two in Catbalogan, another two in Calbayog and the rest are in other municipalities of the province.
D. Energy and Electrification
D.1 Sources of Power
The Tongonan Geothermal Power Plant in Leyte is the primary source of energy in Samar province through the two Electric cooperatives. SAMELCO I covers 10 municipalities and 1 city, Calbayog City of the First District of Samar. SAMELCO II covers 15 municipalities including the capital town of Catbalogan of the Second District of Samar.
On the other hand, the Ton-ok Mini-Hydro Plant in Oquendo, Calbayog City is a reserve source of electricity for the city with a capacity of 500 kW/day. The Bugtong Falls in Tinambacan is also a potential for hydro-generated electricity with an estimated capacity four times more powerful than the Ton-ok Falls.
D.2 Coverage of Electrification
Of the total 430 barangays covered by SAMELCO I, 207 barangays, or 48.14 percent have been energized in the year 2000. The remaining 223 barangays or 51.86 percent are not yet energized. The total households connections was 24,458 (58.03%) out of the 42,145 households potential.
SAMELCO II covers a total of 506 barangays (San Jose de Buan not reflected on this report). About 61.07 percent or 309 barangays were energized and 197 barangays are still to be energized. Of the total 43,570 potentials connection, 65.8 percent (28, 669) has connection.